TRUE BALLISTIC CHRONOGRAPH
---
Imagine a chronograph that always works and that gave the actual ballistic coefficient of a round through multiple velocity readings. All in a compact portable package. No external triggers, microphones, tripods or external power needed, just a fool proof set up with all the information you will ever need for an accurate and true ballistic calulation.
The True Ballistic Radar Chronograph measures actual speeds at four different velocities readings from 0 – 300 yrds to determine actual ballistic coefficient using G1/G7 drag models. This provides actual data in your conditions, info that provides the difference between a hit and a miss. What's it worth to you to hit your target? Use the on board display or connect to the FX Radar app to get more out of the ballistic data.
• No External Recoil Trigger Required
• No Extrenal Battery Pack Needed
• USB-C Recharable Internal Battery
• Small & Portable at 1.8lbs, 7.4" x 9.6"
• Radar Tech Works in Rain or Shine
• Large LCD Display Screen
• Optional Bluetooth Phone App
• Measures from 400 – 4,000+ fps
• Determine Actual Ballistic Coefficient
• Shows STD Deviation and Spread
• Indicates Subsonic Yardage
• Accurate Data Avoids Costly Misses
• Select G1/G7 Drag Models
CHRONOGRAPH DISPLAY
---
Rifle Mounted – Bluetooth Configured – Immediate Results!
Whether shooting in a competition, tuning an airgun, or just keeping a watchful eye on the speed your airgun is performing at, the new FX Chronograph Display is a must-have accessory. This digital display will syncs to the FX Radar Chronograph. It provides an instant feedback velocity reading, without the need to look away from your scope – as the FX Chronograph Display is mounted either under the scope on the FX Impact, or on the side accessory rail on other rifles using a picatinny adapter.
The FX Chronograph Display connects via Bluetooth to your FX Chronograph while also allowing your chronograph to still connect to the FX Radar Smartphone App (to allow for its features). Besides showing the feet per second for each shot taken, the display can also be utilized to show magazine shot count, show the battery charge left in your chronograph, as well as other forthcoming display options.
The display has a built-in battery that is recharged via USB-C cord.
Mounts to: Impact rear stock or Picatinny rail.
For those of you that have access to a 3D printer we now offer you to use our mount design for Maverick and Wildcat.
Note: We will not be able give any guarantees of function or liability, neither will we be able to give any support to 3D printing.
Download 3D File for Maverick and Wildcat mount here >>
POCKET CHRONOGRAPH
---
An airgunners favourite tool, now in the palm of your hand!
Airgunners want to know the velocity and power coming out of their rifle. This is especially important with FX Airguns that allow the ability to tune, change calibers, and change barrel liners.
A chronograph is a key tool needed to maximize the accuracy of your rifle.
In the chronograph world, you really only have two options: The expensive complicated units that gives you most of what you need, but cost far too much, or the cheaper models that are outdated, not very portable, are light sensitive/dependent, and often break easily.
FX is always looking for ways to revolutionize and improve our customers experience, and we decided to find a way to offer the best of both worlds – a chronograph of high quality that is surprisingly affordable.
Introducing the new FX Pocket Chronograph; a wireless radar chronograph that is both portable and packed with features. The Pocket Chronograph communicates via bluetooth to your smart phone. The app (available for both iOS and Android) will show you the feet per second your gun is at, it will store an exportable shot string, and even list the muzzle energy of your rifle (in either foot pounds or joules). Users can store profiles for different rifles, calibers, and pellets so you can easily use the Pocket Chronograph for all your airgunning needs. Future updates to the app are expected so that the versatility of the app can grow and expand.
Keep in the mind the Pocket Chronograph is not just for high powered airgun use. Any projectile travelling under 1099 FPS can accurately be tracked. The Pocket Chronograph is perfect for archery, CO2 rifle and pistols, airsoft, slingshot, paintball and more.
Since the FX Pocket Chronograph uses radar technology, it will work in any weather conditions, even in the middle of the night. Unlike other chronographs, no external light sources are needed!
Simply place the chronograph below the muzzle, Open the FX radar app on your phone, and start firing away as the phone lists (or even calls out) your shot-string.
You'll happily scrap your old chronograph and easily place this chronograph in your gun case, or just literally slip it into your pocket!
Specifications
Size: 72x70x42mm (2.75" x 2.75" x 1.7")
Weight: 133g  (5 oz)
Interface: Bluetooth
Smart App: iOS & Android
App name: FX Radar
Measurement Tech: Doppler Radar
Velocity Range: <  335m/s (1099fps)
Power Source: 3x AAA Batteries
Mount: V-shaped mount (not in the picture) that allows you to mount the chrono to the barrel.
There is also a slot on the bottom side that allows you to mount the chrono on an edge, for example a fence.
Warranty:  1 year limited
Accessories: Bracket with 1/4"-20 Female thread for tripods (not included).
Video tutorials
DOWNLOAD THE APP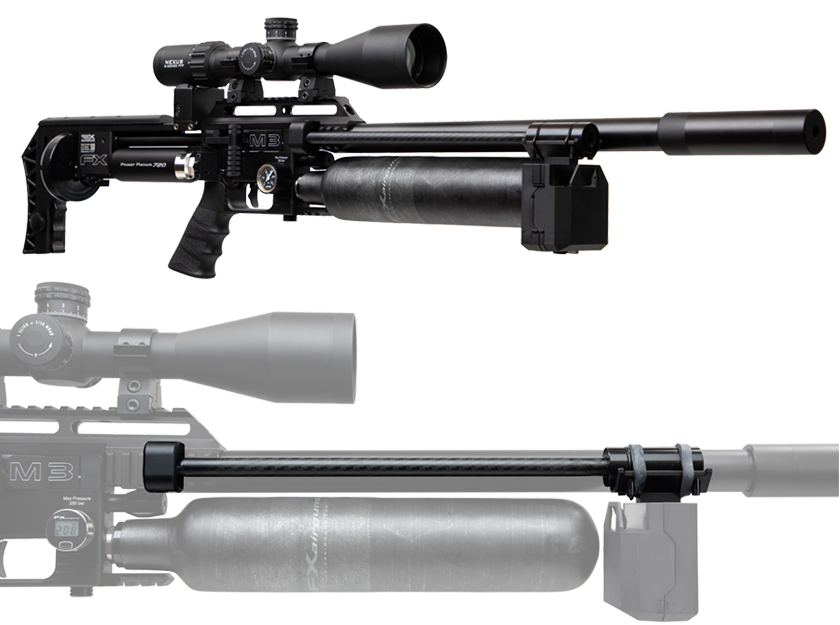 CHRONOGRAPH MOUNT
---
Static Picatinny Mount for the FX Pocket Chronograph
The original FX Pocket Radar Chronograph completely revolutionized the use of Chronographs for airguns. It provided a completely portable and powerful chronograph that shooters could throw in their range bag or rifle case to be used at a moment's notice and give the feedback and velocity data needed to get the most accuracy out of their air rifle. As an alternative to strapping the FX Pocket Radar Chronograph to the end of your barrel, FX now offers the FX Chronograph Mount.  This stiff carbon fiber rod attaches to any of the picatinny accessory rails of many rifles, and allows the perfect positioning of the FX Radar Chronograph without effecting POI should you take the Chronograph Mount off the rifle while ensuring the perfect positioning for completely accurate readings with your chronograph.